How To Make A Statement Piece Versatile With Amy Kuschel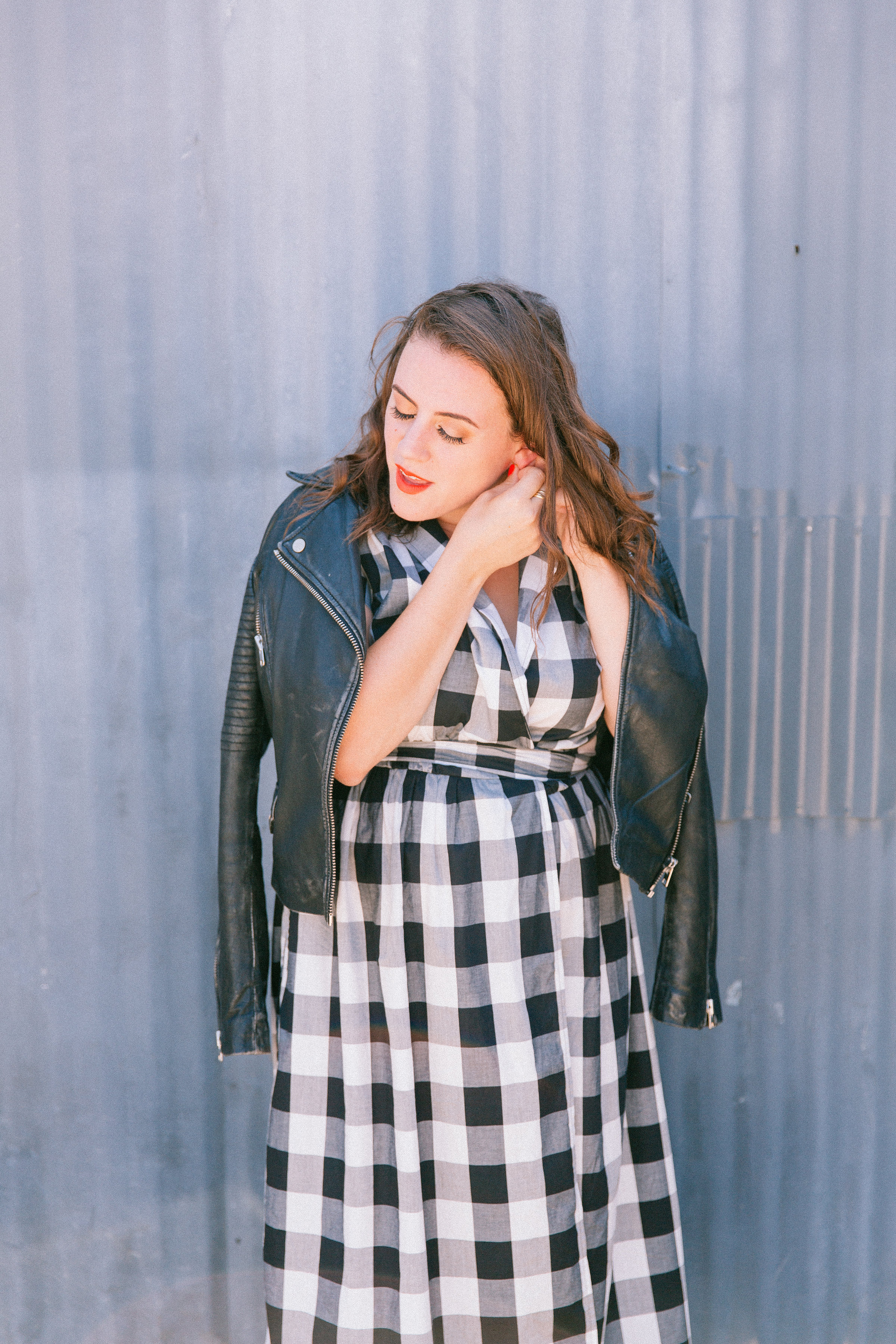 It's all about the versatile statement pieces!
Let's chat about Fall pieces that will work in so many ways!
Fall is essentially here, but let's be honest it's still quite hot in most places. So what's a gal to do when she wants to feel all the Fall vibes but the weather just isn't getting on the pumpkin spice train? Well she gets herself the Roman Holiday in buffalo check by Amy Kuschel. When I first saw this dress I got really excited. I mean… it hits all my checkmarks.
Flattering wrap style - check
Bold black and white color scheme - check
Made locally in San Francisco - check
Lightweight cotton poplin fabric - check
Buffalo check pattern that is timeless yet on trend - check
Pockets - check
My list could go on and on but what I love most about this dress is its ability to be a statement yet versatile. In order to have a closet that is fashionable yet functional these kinds of pieces are crucial. So how DO you make a statement piece versatile? Below are five of my surefire tips on how to do just that.
Look for a combo that balances each other out. For example, a classic silhouette with a bold print. By keeping one thing more traditional it's not as overwhelming and makes it easy to wear often.

A color palette that goes well with several colors is always a plus. This black and white check works well with literally all the colors.

Something that layers easily. You can wear the Roman Holiday dress with a cardigan, a jean jacket, a leather jacket, a sweater, the list goes ON and ON.

Something that works in more than one season. While the light cotton poplin is great for Summer and Spring, the color palette also works for Fall and Winter making it easy to wear year round.

Pick a flattering silhouette. If you are trying to make a piece of clothing truly stand the test of time in your closet, it's not the time for trendy silhouettes. Wrap dresses work on all body types and they truly don't go out of style.
It is quite common to think you can only have classic basics or trendy statements in your wardrobe and that they can't be combined. This is just simply untrue and requires just a small mindset shift. I adore the idea of combining them for an exciting and more elevated look.
Now, let's take it into your closet! As we head into the new Fall season and you are shopping for pieces to add to your closet, how can you make your pieces versatile, exciting, functional, and fun?
If you are local to the Bay Area and want to hear more about how to make your closet versatile, I'd love for you to join me and Amy Kuschel on October 26th from 6-9 at our styling workshop and Book Launch Party! Click HERE to get more info and RSVP!
Photography: Merrill Melideo
Hair: Meg Silver
Makeup: Rebecca Brooks
Dress: Amy Kuschel Roman Holiday